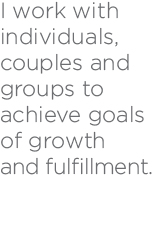 I offer individual, couples and group psychotherapy for adults and adolescents.
Individual Psychotherapy
Most individuals enter therapy because they are in crisis–a relationship has ended, a job change has occurred, a parent has died. As a result they are left with profound feelings, sometimes feelings of depression, anxiety, grief and anger. My initial focus and commitment is to help decrease discomfort. As the crisis subsides, I can help the individual better understand the basis and foundation of their struggles and ultimately help them improve the quality of their daily life.
Couples Psychotherapy
Couples therapy is a particular area of interest and expertise in my practice. I clearly lay out my theory of a healthy working relationship and how a couple achieves this goal. This theory serves as a template that the couple can refer to throughout the course of our work together. I help couples focus on the three entities that constitute a couple—each individual and the couple.
Group Psychotherapy
I have many years of experience facilitating groups to help individuals learn more about themselves from the group as a whole. A true sense of community develops in the group, helping each individual grow. I offer the following types of groups: Adult (men and women), Gay Adult Men, Couples and Adolescents.
Implicit Bias Initiative - Lectures Workshops and Consultations
The Implicit Bias Initiative provides trainings, workshops and consultation to various organizations and entities. The work and mission is two pronged:
Define, educate and understand the nuances of Implicit Bias through an experiential, interactive and relational as well as didactic approach. A basic principle in this first prong is that Implicit Bias exists and that it is our job to be curious about what we don't know and to sharpen our tools to "elongate the synapses" (an expression that I have used to slow our neurological firing down to see and hear more deeply) so that we can lean in with intentions that are filled with integrity, good will and growth.
Action. It is important to have a solid grasp on the first prong, but it is not enough if we don't explore what steps we can take to bring about change. Change happens through action. For example, there can be quite a bridge between academic staff and students and between a college/university administration and faculty. Just one area that might contribute to such a bridge or gap is Implicit Bias. We help through various tools (group exercises, etc.) to illuminate the Implicit Bias and create tools to cross the bridge, lessen the gap.
Recent Workshops and Training Clients include:
Pugent Sound Group Psychotherapy Network (PSGPN)
National Group Psychotherapy Institute (NGPI)
Washington School of Psychiatry (WSP)
American Academy of Psychotherapy (AAP)
Nuclear Threat Initiative (NTI)
Eastern Shore Health and Educational Agency
Washington College (Chestertown, MD)
Various Law Firms
Areas of expertise include:
Gay and Lesbian Issues
Implicit Bias
Depression and Anxiety
Adolescent and Adult ADHD
Addictions
Struggles with Intimacy
Embracing Your Passions