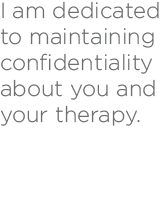 I am a licensed clinical social worker. Under most insurance plans, my professional services qualify for patient reimbursement. My fees are generally considered to be within the acceptable range (UCR) by most insurance companies. I will provide you with a billing statement at the end of each month and payment is due by the 15th of the following month. On my billing statement I provide the required information for insurance reimbursement. I do not participate in managed care plans. In addition, I do not accept assignment of benefits.
Your confidentiality is of utmost importance to me. It is my belief that your therapy is yours and not your insurance company's.
If you have further questions about fees and insurance please free to contact me.