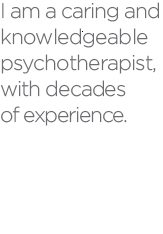 My path toward becoming a psychotherapist began with an undergraduate degree in psychology at Washington University. Following my graduation, after pursuing my first career as a dancer in New York City and France, I decided to devote myself to my other passion—psychology. I entered graduate school to become a psychotherapist to advance my goal of helping individuals as the main focus of my professional life. It has been part of my personal growth to know that I could realize, pursue and achieve a diverse set of passions. As a result, I have made the pursuit and living of one's passion a primary focus of my work as a psychotherapist.
After receiving my Masters degree in Clinical Social Work, I worked in a variety of clinical settings including the St. Francis Center in Washington, DC, Sheppard Pratt Psych Hospital and Johns Hopkins Hospital. I helped individuals and their families process issues of death and dying and I provided individual, family and group therapy for a diverse patient population, including women with eating disorders, and children/adolescents struggling with depression, anxiety and conduct disorders.
After short-term based work in institutional settings it became clear that what inspired and interested me was to work with individuals, couples and groups long-term. I wanted to see, experience and realize deeper change and growth. It became my primary goal to build my private practice. Since then, I have had the opportunity to work with a diverse patient population: gay men, lesbians, families, children/adolescents, couples and groups. I enjoy lecturing at local graduate programs, facilitating numerous groups for professional clinicians and peer counselors, and providing ongoing supervision for therapists. I also enjoy speaking and leading workshops for organizations, agencies and law firms.
Degrees / Licensure
1995
| District of Columbia LICSW (Licensed Clinical Social Worker) and Maryland LCSW-C (Licensed Clinical Social Worker-Clinical).


1993
| Graduated with honors (4.0 GPA) from University of Maryland, Baltimore School of Social Work. Degree: MSW


1981
| Graduated with honors (cum laude) from Washington University (St. Louis, MO) Major: psychology Minors: Chemistry and Dance. Degree: B.A.


Professional Memberships
NASW
| National Association of Social Workers


AAP
| American Academy of Psychotherapists


AGPA
| American Group Psychotherapy Association


MAGPS
| Mid-Atlantic Group Psychotherapy Society